Published by Ewan Spence at 12:22 UTC,September 8th 2011
Summary:
It's a small software scene,but the "recording your exercise on your smartphone"genre has been joined by AllSport GPS. Offering a similar mix of monitoring,logging and statistics to applications like Sports Tracker,can Trimble Outdoor's client match one of my long term favourites? In terms of function,yes,but the form is lacking.
AllSport tracks where you've been while exercising –great for the runners and cyclists out there,but maybe not for weightlifters. Keeping track of your routine each day,and with a weekly breakdown,you can stop kidding yourself about what you've been doing and work on facts,not your fiction.
I've been using my smartphone for tracking my bike riding round Edinburgh for the last few months,and I'm pleased to say that there's very little AllSport won't do.
Edinburgh is not the easiest of cities for GPS –with high brick built tenement blocks,dark alleys,bricked up viaducts and converted train tunnels for paths,it's very easy to lose the "lock"on the satellites. How does AllSport cope with this? Pretty well. You get an audible tone when the signal is lost,and a nice chirp when it returns –and that return happens pretty quickly,just moments after emerging from a tunnel,for example.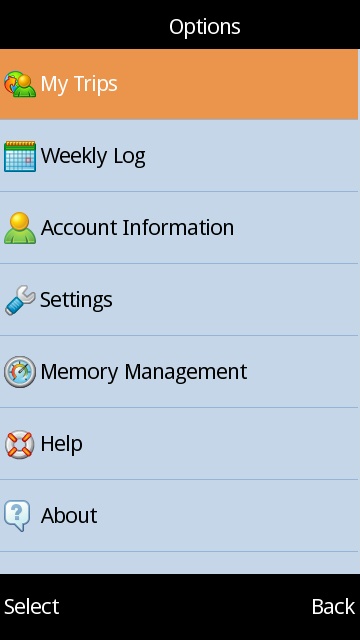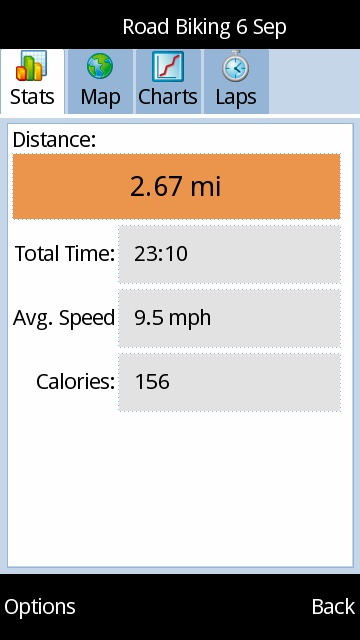 Yes,I know that the GPS is in the phone,but processing the information and doing stuff with it is up to the application,and that needs to work as well as the hardware.
Recording your exercise activity is a simple matter of choosing one of the activities on the main menu –I can't see a way to define your own,so fingers crossed you can cope with "running,walking,road biking,mountain biking or board/ski". That takes you to the main screen,showing time,pace,energy used (in calories,not in Steve's favourite "Mars Bars"unit) and tabs along the top to call up the rolling map display,lap times,and a history of your elevation.
Controls to start the clock,pause it and finish your exercise,are under the  Options menu,along with various extra fields you can add to this statistics tab depending on your information preference. Adding your current direction might be a bit twee,but I can see the need for a lap counter while running,the amount of time you have spent at rest,or the previous lap time. AllSport is nothing but configurable in terms of information displayed.
And that's before you look at the nifty moving map,giving you a bird's eye view of where you are.
It's just that due to the nature of the code (Java) it all looks a bit Mickey Mouse. There's no flair to the information,there's no pride or pixel perfection on show. I've no doubt that,because of the cross-platform nature of AllSport,there has to be a compromise,but the basic look of the application doesn't match up with the depth that it offers.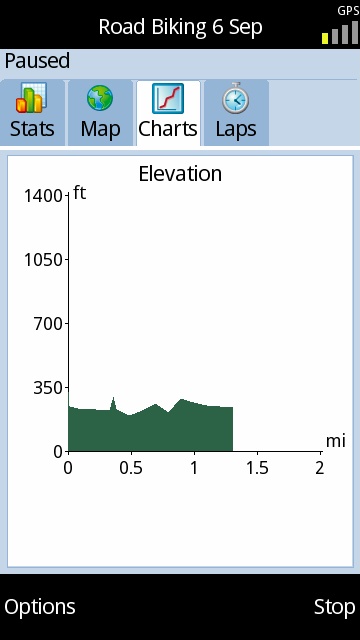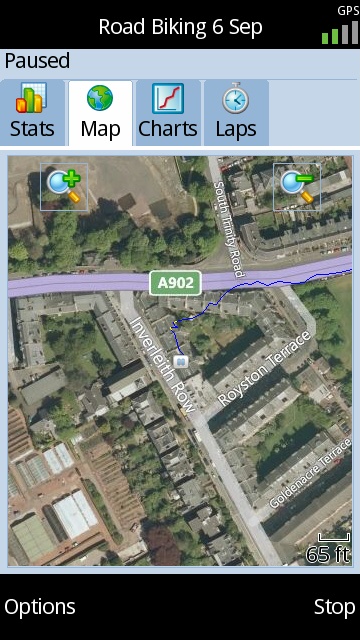 The question that is raised by AllSportGPS is a simple one. Why use this over Sports Tracker? For me,the benefits of an exercise tracker on my smartphone is to lend it a touch of 'gameification',to appeal to that part of me that wants to keep beating a high score,or not slipping below last week's rolling average. Neither SportsTracker or AllSport deliver that (you might recall that I use the Wellness Diary to do this).
But SportsTracker looks far nicer. Yes,the numbers are the same,and the data pulled from the GPS is going to be the same,but SportsTracker is nicer to look at,nicer to use,and I'm more inclined to fiddle with it just because of that. Shallow,yes,but that makes me want to exercise more. That's enough to demote AllSport,but that's a very personal opinion,and your mileage will definitely vary.
If you're after an exercise tracker,grab the lite version of AllSport and see how you get on. Functionally it works,but the emotional connection is going to be more important. It may be that you switch to it,it may be you stay with what you are currently using. Find out if it fits you,because ultimately you need a good fit to keep yourself motivated.
–Ewan Spence,Sept 2011.
Buy Link | Download / Information Link
Powered By WizardRSS.com | Full Text RSS Feed | Amazon Plugin | Settlement Statement | WordPress Tutorials