This article is Part 2 of a three-part series. The first part can be accessed here. Berkshire Hathaway's (BRK.A) habit of nibbling bite-sized stakes only to dispose them off later was mentioned in passing in our previous article. This approach very often trips up investors who attempt to front run future Warren Buffet purchases – by the time they get long on the stocks concerned,Buffett has already liquidated the positions. This article examines the finer points of such trades. In the last decade,fifty seven stocks staged a fleeting appearance in Berkshire Hathaway's investment portfolio.
Below is a list of those stocks classified by sector that no longer figure in the latest 13F report:
[Click all images to enlarge]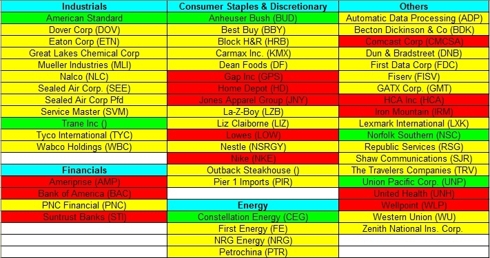 Drilling down on these assets on a sector basis clearly confirms Buffett's nibbling pattern.
Berkshire Hathaway initiated a very small stake in Ingersoll Rand (IR –~0.05%) in 2006 and has maintained its share count in the latest filing,although there were some variations in the interim years.
A related stake was American Standard first purchased in 2003. American Standard,renamed Trane following a break-up,spawned two other entities in February 2007:the vehicle controls division –Wabco Holdings (WBC), and the kitchen and bath division which got sold to Bain Capital Partners. Ingersoll Rand completed a transaction to purchase Trane on June 5,2008. Shortly after these transactions Berkshire Hathaway sold off its tiny stake in WBC and liquidated the Trane position.
The stakes in Great Lakes (~0.6%),Mueller Industries (MI –~0.4%),and Sealed Air (SEE) along with Pfds (~0.6%) that accounted for almost 1.6% of the total portfolio in 2001 were liquidated by 2005.
As the stakes were very small,they are not an indication of Buffett's bullish or bearish bias. The spreadsheet below summarizes Berkshire's industrial holdings that were sold out in the last ten years:


Consumer Staples and Discretionary:
Berkshire sold out of fifteen Consumer Staples and Discretionary stocks during the last ten years most of which were sales in the retail sub-sector.
The spreadsheet below summarizes Berkshire's holdings in this sector that were sold out in the last ten years.

Berkshire Hathaway held stakes in four energy companies in the past decade that has since been sold:
The spreadsheet below captures these details:

Berkshire Hathaway had stakes in four financial companies during the last ten years that has since been sold:Ameriprise (AMP),Bank of America (BAC),PNC Financial (PNC),and Suntrust Banks (STI).
1. Ameriprise was a large stake (~30 million shares –~2.5% of portfolio) initiated in 2005 – American Express (AXP) spun-off Ameriprise in 2005 and Buffett sold off the shares Berkshire received following the transaction in the next two years. Given the large size of the stake,the disposition,and the fact the parent company stake was left untouched,it can be inferred Buffett was bearish on Ameriprise while remaining bullish on American Express.
2. Berkshire acquired a significant stake (9.1 millions shares –~1% of portfolio) in Bank of America in 2007 but disposed about 35% of it in 2008 and the rest in 2010,indicating a bearish bias. Buffett was openly critical of BAC's then CEO Kenneth D. Lewis and the acquisition of Merrill Lynch in September 2008 saying "He could have bought them the next day for nothing because Merrill was going to go when Lehman went". The disposal resulted in huge losses for Berkshire as the share price dropped drastically following the financial crisis. As of August 25,2011 Berkshire is reported to have invested $5 billion in BAC preferred shares with a 6 percent annual dividend yield and a 5% call premium.
3. PNC Financial was a diminutive stake that Berkshire held briefly in 2002.
4. Berkshire had a fairly large ~1.5% of portfolio stake in Suntrust Banks and held it for more than ten years. The stake was closed-out completely by 2009. It is rare for Berkshire to sell out of significantly large stock positions that were held for a long time. It can be inferred Buffett turned bearish on Suntrust Bank shares.
The spreadsheet below shows these details:

Berkshire Hathaway held stakes in nineteen other companies in the last ten years that has since been sold out.
The spreadsheet below shows the details: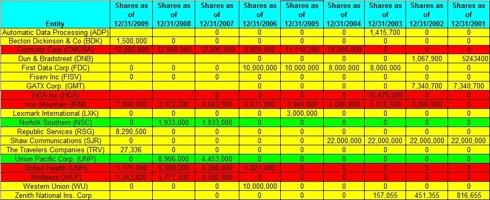 To summarize,analyzing Berkshire Hathaway's stock sales in isolation after each 13F quarterly filings offers limited value. Patterns do emerge when sales over a period of years are taken together and classified by sector. The consolidated information allows the ability to figure out Warren Buffett's bullish or bearish bias on the holdings held over the years.
Disclosure:I am long BDX,WMT. I have written cash-covered puts on BRK.B (Jan 2012 75).
Powered By WizardRSS.com | Full Text RSS Feed | Amazon Plugin | Settlement Statement | WordPress Tutorials